Blue Sky Painting & Carpentry is proud to be involved and give back to local community projects and foundations. Here are just a few that we are recently involved in and encourage you to check out.
The purpose of The Nathan Chris Baker Foundation is to provide financial, physical, and emotional support to individuals, families, and communities in need. This support focuses on many areas, including academic and athletic opportunities, that promote and develop the strength, confidence, and abilities needed to Go Out and Be Great.
Their vision is to empower communities with the strength, resources, and hope needed to Go Out and Be Great. The Nathan Chris Baker Foundation is committed to finding ways in which the cycle of sharing greatness with others can be perpetuated. Through a broad vision the Nathan Chris Baker Foundation can help many people through many different means.
Greatness is abundant and The Nathan Chris Baker Foundation has supported others in attaining it through a wide array of efforts.
Fundraising for the construction of projects (i.e. playgrounds and ball fields) both large and small that will promote and develop the strength and confidence to Go Out and Be Great.

Providing opportunities for individuals to excel in academic and athletic areas.

Distributing care packages for individuals and families experiencing emotional and physical hardships.

Organizing "Days of Greatness" that provide these families with time away from the hard realities of the situations that they face and give them the opportunity to create lasting memories with loved ones.
Located in Baltimore, Maryland the Samuel Coleridge-Taylor Elementary is a community of teachers, families, and students who are dedicated to educating the mind, body, and spirit of every child in order to become responsible, caring, and high-achieving citizens in the global community. They are committed to ensuring that every student achieves college or career readiness by providing and requiring grade level or above achievement through differentiated instruction and appropriate interventions that promote students' rigor and engagement in a collaborative and supportive environment.
Blue Sky Painting & Carpentry was contacted by the teachers in order to paint walls that were long overdue. They wanted to provide a space that matched the cheerfulness and values of the students and teachers themselves. Seeing that the teachers had come together with their own money to try and fund the project the project manager, Adam, and Blue Sky owner, Tom, both decided to provide our painting services free of charge. We painted accent walls in a dozen classrooms and are working together to repaint their cafeteria as well as work with teachers to provide supplies to students in need.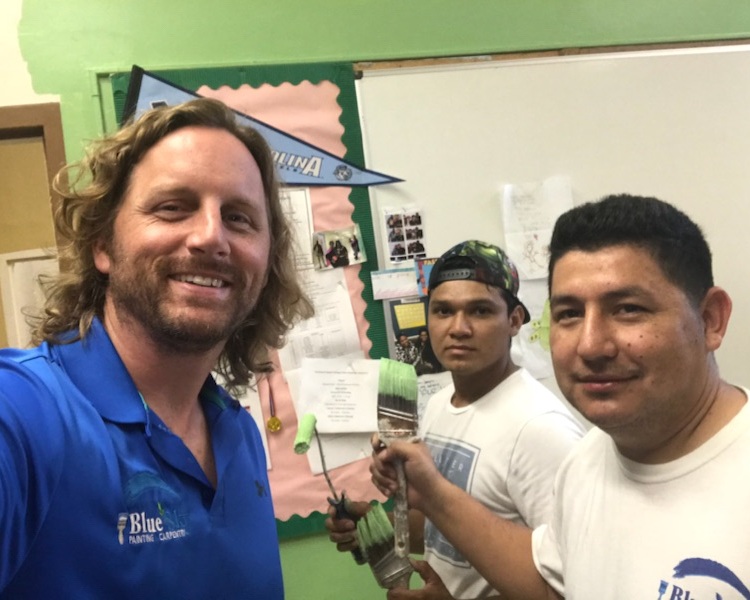 Project Manager, Adam, and some of his crew.
Everyone involved was proud to be working on this project to help liven up the school's classrooms.
We're all here to help out.